COUNTRY PARCEL MARKET VOLUMES
Effigy Consulting has decided to share its Courier, Express, Parcel (CEP) Market volumes for each of the 41 countries available in the database.
The CEP Market perimeter is defined along the following drivers :
Parcel : Individual box or package that can be carried by one man, up to 31.5kg.
Network visibility and traceability : the item is tracked through a barcode or potentially any other device (unlike "Mail items" that are typically untracked).
Network Operations : the item is transported through a regular transport network, with regular daily connections, routes and tours.
This definition excludes Food, Same Day, Point-to-Point delivery, Pallet, Freight, Contract Logistics, Innight services, Air Cargo Linehaul, etc.
More data can found in the Individual Country Reports, in the Regional reports (Europe, North America and Asia-Pacific) and in the full dataset.
Austria
Consolidation of Amazon, Austrian Post, DHL Express, DHL Parcel, DPD, FedEx/TNT, GLS, Hermes, UPS and others (rest of the market)
BeLux (Belgium & Luxembourg)
Consolidation of Amazon, Bpost, Ciblex, Colis Privé, DHL Express, DHL Parcel, DPD, Dynalogic, Euro-Sprinters, FedEx/TNT, GLS, Mondial Relay, Post Luxembourg, PostNL, UPS and others (rest of the market)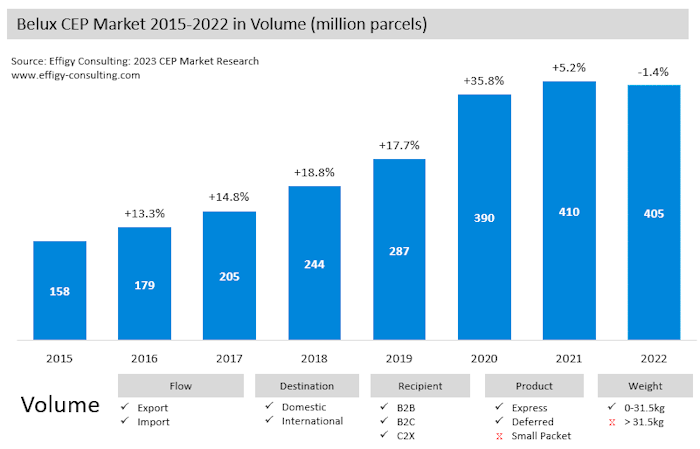 Bulgaria
Consolidation of Bulgarian Post, DHL Express, Econt Express, Euroway, Express One, FedEx/TNT, In Time, Interlogistica, International Mail and Parcel, LEO Express, Speedy, Tip-Top Courier, UPS and others (rest of the market)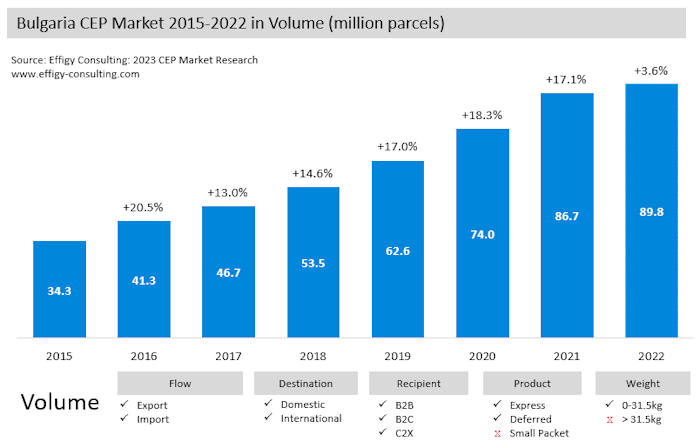 Croatia
Consolidation of A2B Express, Croatian Post, DHL Express, DPD, FedEx/TNT, GLS, In Time, Intereuropa, Overseas Express, Tisak Paket, UPS and others (rest of the market)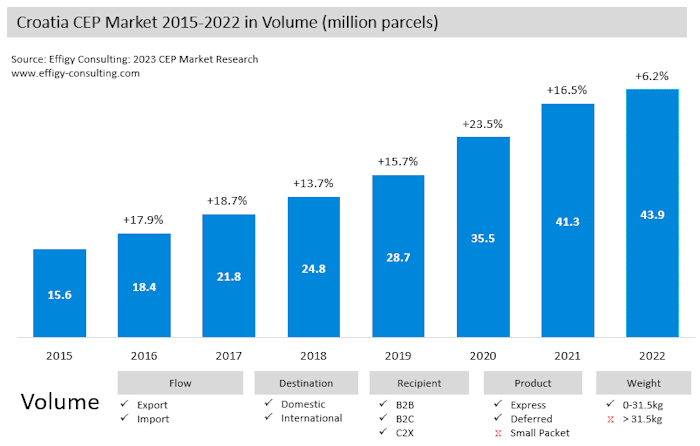 Czech Republic
Consolidation of Czech Post, DHL Express, DHL Parcel, DPD, FedEx/TNT, GLS, Toptrans, UPS, WEDO, Zasilkovna and others (rest of the market)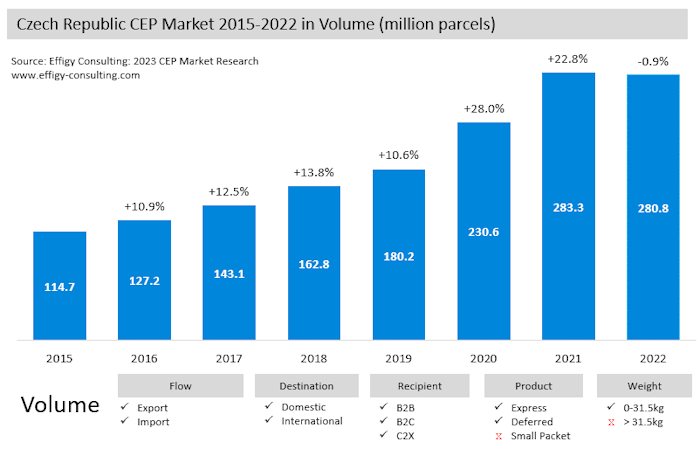 Denmark
Consolidation of Best, Bring, Budbee, Danske Fragtmand, DAO, DHL Express, DHL Parcel, DSV, FedEx, GLS, Instabox, JetPak, PostNord, Schenker, TNT, UPS and others (rest of the market)
Estonia
Consolidation of DHL Express, DPD, FedEx/TNT, Itella, Jet Express, OMNIVA, OSC, UPS, Venipak and others (rest of the market)
Finland
Consolidation of Bring, Budbee, DHL Express, FedEx, GLS, JetPak, Matkahuolto, Posti, PostNord, Schenker, TNT, UPS and others (rest of the market)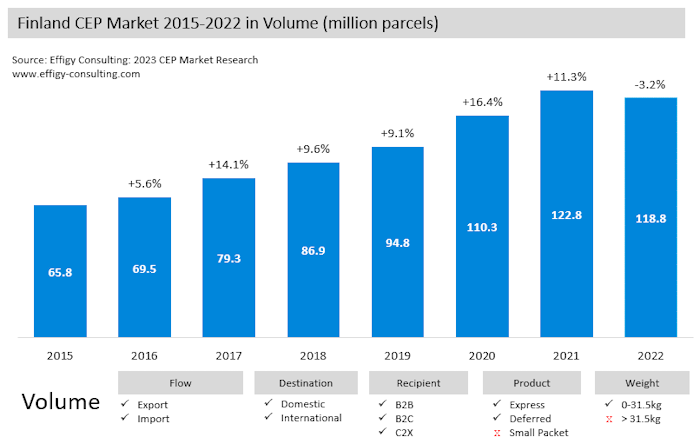 France
Consolidation of Amazon, Chronopost, Ciblex, Colis Privé, Colissimo, DHL Express, DPD, Eurotranspharma, FedEx/TNT, Geodis, GLS, Mondial Relay, Paack, Relais Colis, Star Service, UPS and others (rest of the market)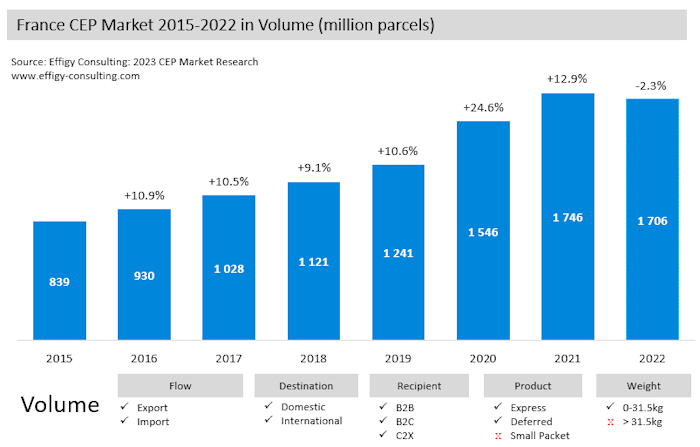 Germany
Consolidation of Amazon, DHL Express, DHL Parcel, DPD, FedEx/TNT, GLS, GO!, Hermes, Trans-O-Flex, UPS and others (rest of the market)
Greece
Consolidation of ACS, DHL Express, Elta courier, FedEx/TNT, Greece Post, Speedex, Taxydromiki, UPS and others (rest of the market)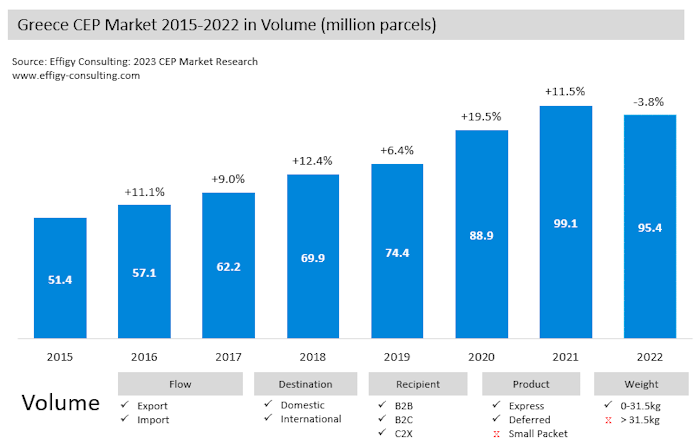 Hungary
Consolidation of DHL Express, DPD, Express One, FedEx, FOXPOST, GLS, Magyar Posta, Packeta, Sprinter, TNT, UPS and others (rest of the market)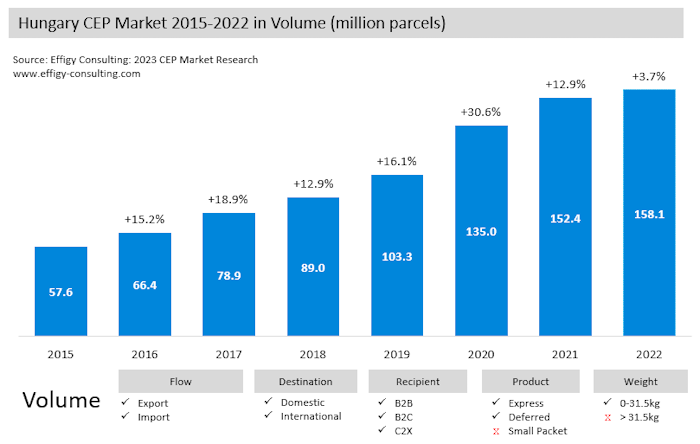 Iceland
Consolidation of DHL Express, FedEx/TNT, Iceland Post, UPS and others (rest of the market)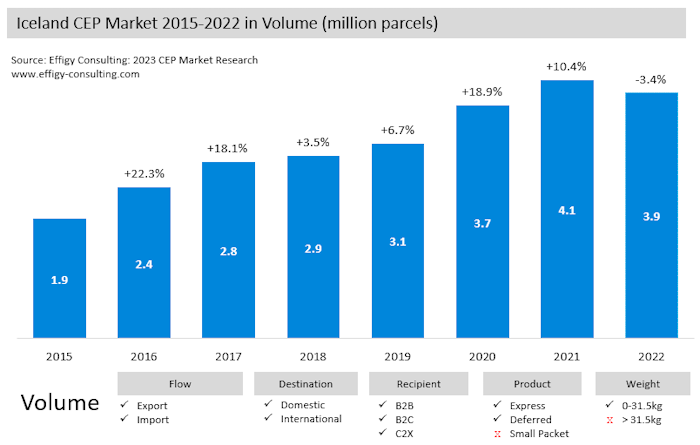 Ireland
Consolidation of Amazon, An Post, DHL Express, DPD, Fastway, FedEx/TNT, GLS, UPS and others (rest of the market)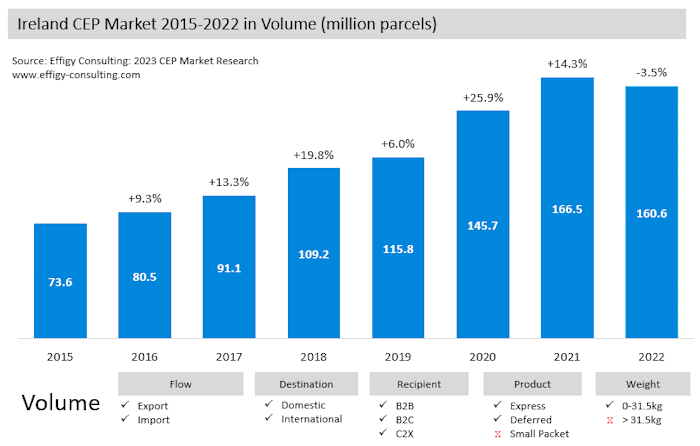 Italy
Consolidation of Amazon, BRT, DHL Express, FedEx/TNT, GLS, (Hermes), Nexive, Poste Italiane/SDA, UPS and others (rest of the market)
Latvia
Consolidation of DHL Express, DPD, FedEx/TNT, Itella, Latvian Post, OMNIVA, UPS, Velokurjers, Venipak and others (rest of the market)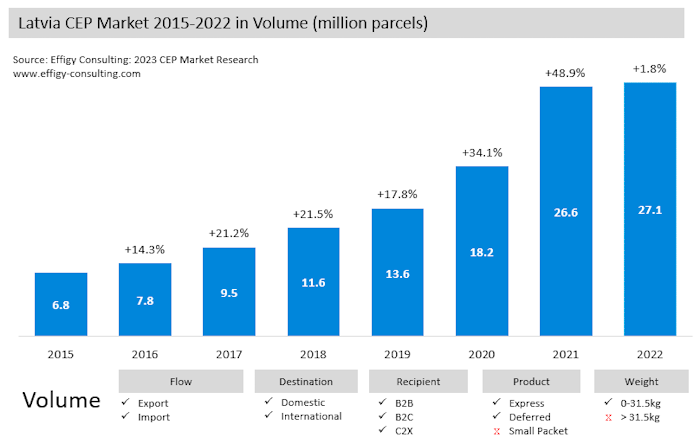 Lithuania
Consolidation of DHL Express, DPD, FedEx, Itella, Lithuanian Post, Nege, OMNIVA, TNT, UPS, Venipak and others (rest of the market)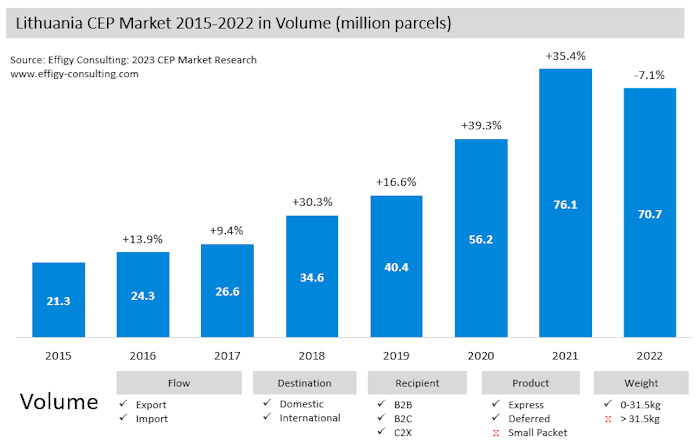 Netherlands
Consolidation of Amazon, Budbee, DHL Express, DHL Parcel, DPD, Dynalogic, FedEx/TNT, GLS, Homerr, Instabox, Mondial Relay, PostNL, UPS and others (rest of the market)
Norway
Consolidation of Best, Bring, DHL Express, FedEx/TNT, Helthjem, Instabox, JetPak, Porterbuddy, Posten, PostNord, Schenker, UPS and others (rest of the market)
Poland
Consolidation of Amazon, DHL Express, DHL Parcel, DPD, FedEx/TNT, GLS, InPost, Orlen Paczka, Packeta, Poczta Polska, Schenker, UPS and others (rest of the market)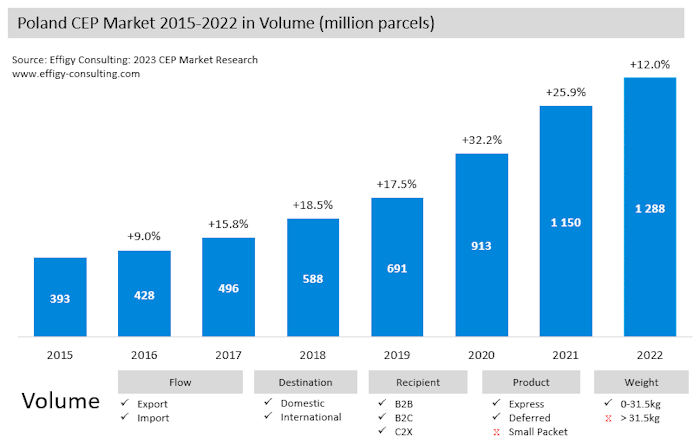 Portugal
Consolidation of Correos Express, CTT, DHL Express, DHL Parcel, DPD, Envialia, FedEx/TNT, GLS, Mondial Relay, MRW, NACEX, Paack, UPS and others (rest of the market)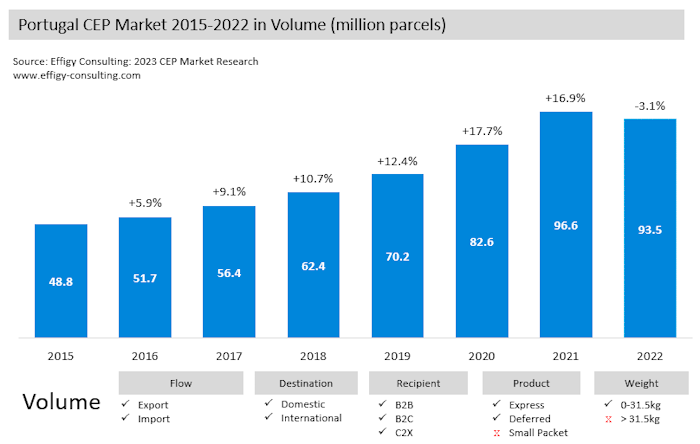 Romania
Consolidation of Cargus, DHL Express, DPD, Econt Express, Fan Courier, FedEx/TNT, GLS, Nemo Express, Packeta, Romanian Post, Sameday, UPS and others (rest of the market)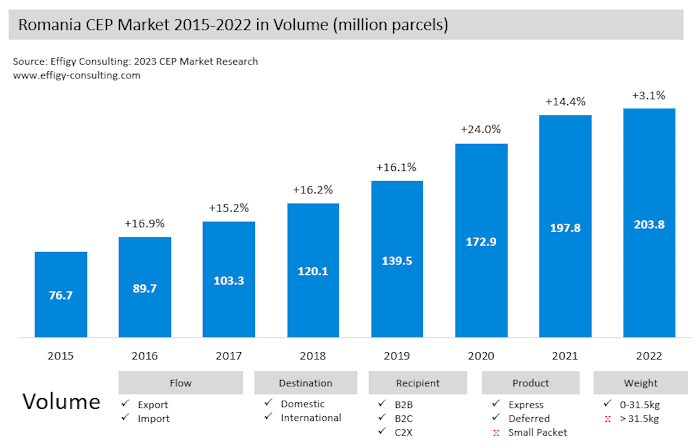 Russia
Consolidation of Boxberry, City Express, Courier Service Express, DHL Express, DHL Parcel, DPD, FedEx, Garantpost, Hermes, IML, Major Express, PickPoint, Pony Express, Russian Post/EMS, SberLogistics, SDEK, TNT, UPS and others (rest of the market)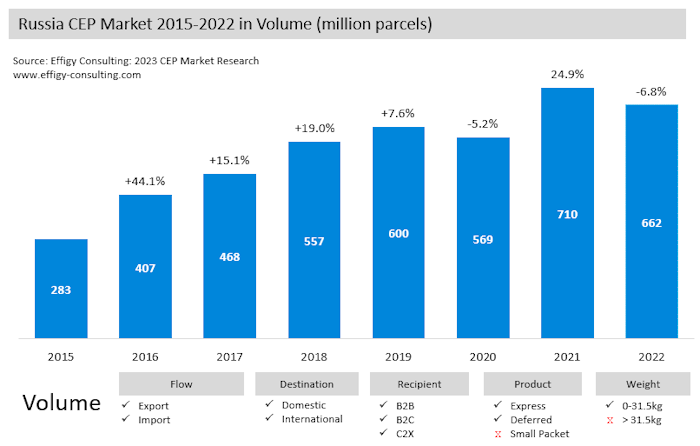 Serbia
Consolidation of A2B Express, AKS, Bex Express, City Express, DHL Express, Express Courier, FedEx, Serbian Post, TNT, Union Sped, YU/PD and others (rest of the market)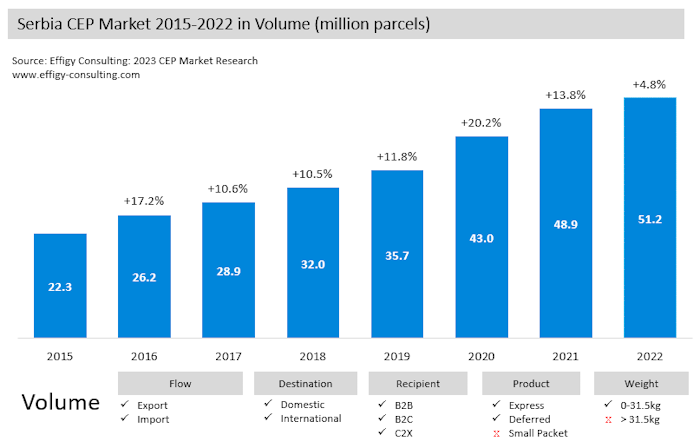 Slovakia
Consolidation of 123kurier, DHL Express, DPD, Express One, FedEx/TNT, GLS, Packeta, Slovak Post, SPS, UPS and others (rest of the market)
Slovenia
Consolidation of DHL Express, DPD, FedEx/TNT, Global Express, GLS, Gold Express, Intereuropa, Slovenian Post, UPS and others (rest of the market)
Spain
Consolidation of
Amazon, Celeritas, Correos, Correos Express, CTT Express, DHL Express, DHL Parcel, Envialia, FedEx/TNT, GLS, Mondial Relay, MRW, NACEX, Ontime, Paack, SEUR, TIPSA, UPS, ZELERIS
and others (rest of the market)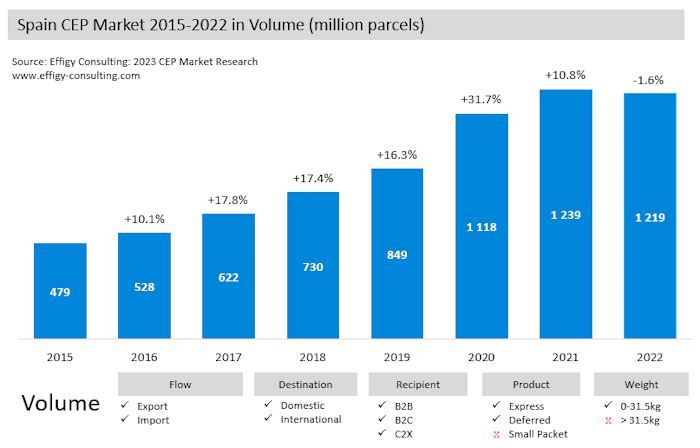 Sweden
Consolidation of
Airmee, Best, Bring, Budbee, DHL Express, DHL Parcel, DSV, Early Bird, FedEx/TNT, Instabox, JetPak, PostNord, Schenker, UPS
and others (rest of the market)
Switzerland
Consolidation of DHL Express, DPD, FedEx, Planzer, Quickpac, SPI GLS, Swiss Post, TNT Swiss Post, UPS and others (rest of the market)
Turkey
Consolidation of aramex, Aras Kargo, ASE, DHL Express, FedEx/TNT, hepsiJET, Kolay Gelsin, MNG Kargo, PTT, Surat Kargo, Trendyol Express, UPS, Yurtici Kargo and others (rest of the market)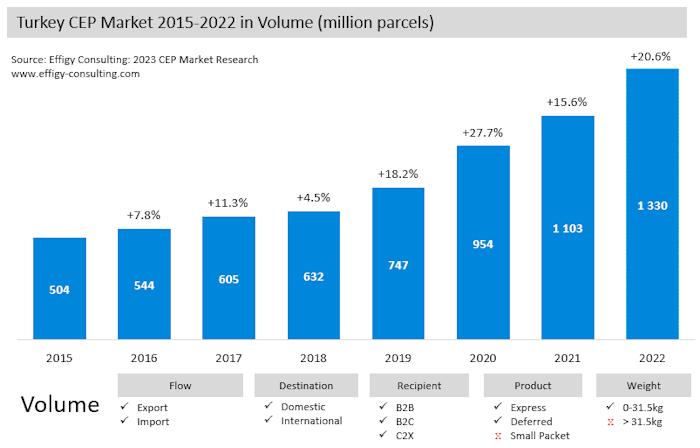 Ukraine
Consolidation of CAT, DHL Express, FedEx/TNT, Meest, Nochnoy Express, Nova Post, Ukrposhta, UPS and others (rest of the market)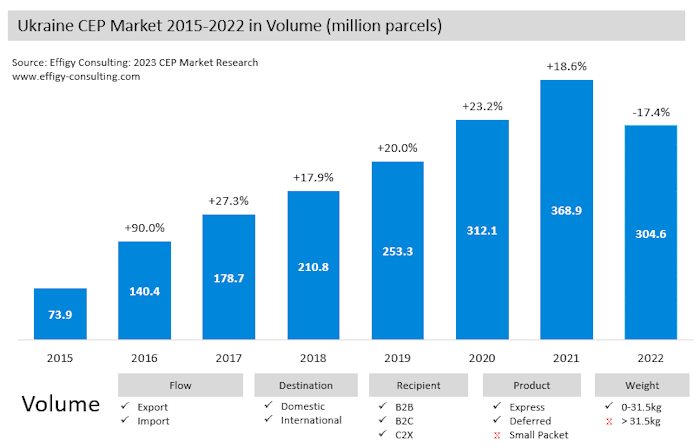 United Kingdom
Consolidation of Amazon, APC Overnight, DHL Express, DHL Parcel, DPD, DPD Local, DX, Evri, FedEx/TNT, Paack, Parcelforce, Royal Mail, Tuffnells, UPS, Yodel and others (rest of the market)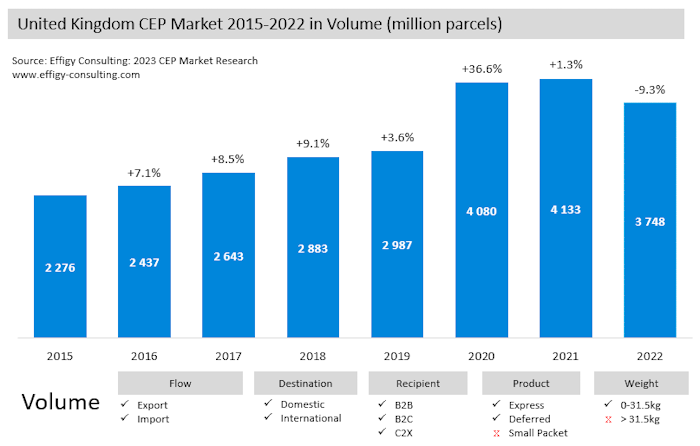 Canada
Consolidation of Amazon, Canada Post, DHL eCommerce, DHL Express, FedEx Express, FedEx Ground, GLS, Intelcom, Purolator, TFI International, UPS and others (rest of the market)
Mexico
Consolidation of Amazon, Correos de Mexico, DHL Express, Estafeta, FedEx, MELI, Paquetexpress, Redpack, SCM, SendEx, Tresguerras, UPS and others (rest of the market)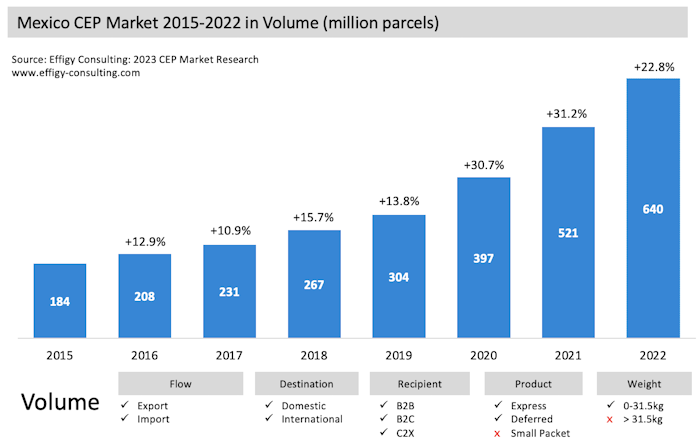 USA
Consolidation of Amazon, DHL eCommerce, DHL Express, FedEx Express, FedEx Ground, GLS, Greyhound, LaserShip, LSO, OnTrac, Pitt Ohio, UDS, UPS, USPS and others (rest of the market)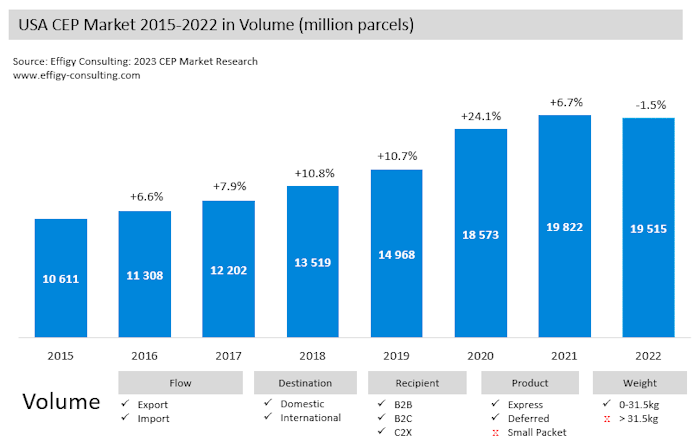 Australia
Consolidation of Allied Express, aramex, Australia Post, Couriers Please, DHL eCommerce, DHL Express, Direct Couriers, FedEx/TNT, Kings, Team Global Express, UPS and others (rest of the market)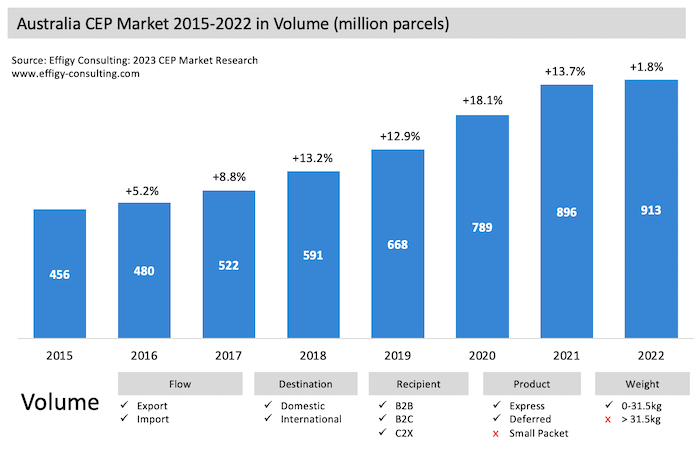 China (incl. Hong Kong)
Consolidation of China Post, DHL eCommerce, DHL Express, FedEx/TNT, Honk Kong Post, J&T Express, JD.com, Kerry Express, OCS, SF Express, STO, UPS, Yamato, YTO Express, Yunda, ZTO and others (rest of the market)
India
Consolidation of Amazon, Aramex, Blue Dart, Delhivery, DHL Express, DTDC, Ecom Express, eKart, Gati, Gati-KWE, India Post, Safe Express, Shadowfax, FedEx/TNT, UPS, VRL, XpressBees and others (rest of the market)
Japan
Consolidation of DHL Express, EcoHai, FedEx/TNT, Fukuyama, Japan Post, OCS, Sagawa, Seino, SF Express, UPS, Yamato and others (rest of the market)
New Zealand
Consolidation of aramex, DHL Express, FedEx/TNT, Freightways, New Zealand Post, PBT Couriers, UPS and others (rest of the market)
Thailand
Consolidation of Best Express, CJ Express, DHL eCommerce, DHL Express, FedEx, Flash Express, J&T Express, Kerry Express, Lazada Express, Nim Express, Ninja van, SF Express, Thailand Post, TNT, UPS and others (rest of the market)