CEP MARKET DATA ANALYTICS
Detailed dataset on Courier, Express, Parcel (CEP) Market
in major countries Worldwide
Over 500,000 data points related to more than 300 carriers across 41 countries
Effigy Consulting has been assessing the European Courier, Express, Parcel (CEP) Market for several years and has extended its research to many other countries in the World (North America, Asia and Pacific).
This in-depth exercise results in the production of a massive dataset which includes over 500,000 data points related to more than 300 carriers across 41 countries.
EFFIGY CONSULTING DATASET PROVIDES YOU WITH THE FOLLOWING MARKET DIMENSIONS
Years : 2014-2021
Country
Carrier
Revenue and Volume
Recipient : B2B, B2C, C2C and C2B (Returns)
Product : Express, Deferred and SP-Letter (Small Packet – Letters : light items operated through Mail networks)
Destination : Domestic, International Intra EU, Intra-Continent and Extra-Continent
Flow : Import and Export
Weight break : 0-31.5kg, 31.5kg-70kg
All dimensions can be combined, enabling you to easily narrow down your analysis to the required sub-segment. 
For example, 2017 volume for all carriers in Slovenia active in the International-B2B-Export segment.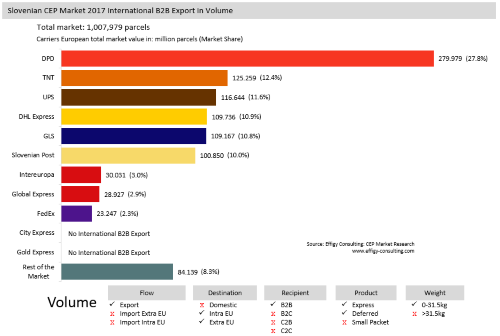 METHODOLOGY
To produce such a Dataset, our team has been following a proven methodology which consists of a combination of Secondary Desk Research and Primary Research through extensive market interviews.
Our network provides the capability to launch analyses in many countries with a panel of more than 300 carriers, including all Integrators, Cross-Border Carriers, large Domestic players and Postal operators.
Primary Research
We have developed a large network of people that enables us to carry out qualitative Market Interviews :
Interviews with market experts and cross-referencing of the information collected
Review with key stakeholders
Use of local consultants
Own market knowledge built up through multiple years of experience in the Courier, Express, Parcel (CEP) industries
Our Secondary Research consists of :
Extensive Desk research
Profiling of players' activities and products
Analysis of sources such as Annual Reports, Chamber of Commerce and other financial sources, News articles, Country regulators and Local reports, Airport and Airline information, etc.
COUNTRIES AND CARRIERS IN SCOPE
Europe
32 Countries : Austria, Belgium-Luxembourg, Bulgaria, Croatia, Czech Republic, Denmark, Estonia, Finland, France, Germany, Greece, Hungary, Iceland, Ireland, Italy, Latvia, Lithuania, Netherlands, Norway, Poland, Portugal, Romania, Russia, Serbia, Slovakia, Slovenia, Spain, Sweden, Switzerland, Turkey, Ukraine, United Kingdom
Carriers : 123kurier, A2B Express, ACS, Airmee, AKS, Amazon, An Post, APC Overnight, aramex, Aras Kargo, ASE, Austrian Post, Best, Bex Express, Boxberry, Bpost, Bring, BRT, Budbee, Bulgarian Post, Cargus, CAT, Chronopost, Ciblex, City Express, Colis Privé, Colissimo, Correos, Correos Express, Courier Service Express, Croatian Post, CTT, CTT Express, Czech Post, Danske Fragtmand, DAO, DHL Express, DHL Parcel, DPD, DPD Local, DSV, DX, Dynalogic, Early Bird, Econt Express, Elta courier, Envialia, Euro-Sprinters, Eurotranspharma, Euroway, Express Courier, Express One, Fan Courier, Fastway, FedEx, FedEx/TNT, FOXPOST, Garantpost, Geodis, Global Express, GLS, GO!, Gold Express, Greece Post, Helthjem, hepsiJET, Hermes, Homerr, Iceland Post, IML, In Time, InPost, Instabox, Intereuropa, Interlogistica, International Mail and Parcel, Itella, Jet Express, JetPak, Kolay Gelsin, Latvian Post, LEO Express, Lithuanian Post, M&BM Express, Magyar Posta, Major Express, Matkahuolto, Meest Express, MNG Kargo, Mondial Relay, MRW, NACEX, Nege, Nemo Express, Nexive, Nochnoy Express, Nova Poshta, OMNIVA, Ontime, OSC, Overseas Express, Paack, Packeta, Parcelforce, PickPoint, Planzer, Poczta Polska, Pony Express, Post Luxembourg, Poste Italiane/SDA, Posten, Posti, PostNL, PostNord, PTT, Quickpac, Relais Colis, REMAX, Romanian Post, Royal Futar, Royal Mail, Ruch, Russian Post/EMS, Sameday, SberLogistics, Schenker, SDEK, Serbian Post, SEUR, Slovak Post, Slovenian Post, Speedex, Speedy, SPI GLS, Sprinter, SPS, Star Service, Surat Kargo, Swiss Post, Taxydromiki, TIM KOP, TIPSA, Tip-Top Courier, Tisak Paket, TNT, TNT Swiss Post, Toptrans, Trans-O-Flex, Trendyol Express, Tuffnells, Ukrposhta, Union Sped, UPS, Velokurjers, Venipak, WEDO, Yodel, YU/PD, Yurtici Kargo, Zasilkovna, ZELERIS and Rest of the Market
Asia-Pacific
6 Countries : Australia, China (incl. Hong Kong), India,  Japan, New Zealand, Thailand
Carriers : Allied Express, Amazon, aramex, Australia Post, Best Express, Blue Dart, China Post, CJ Express, CouriersPlease, Delhivery, DHL eCommerce, DHL Express, Direct Couriers, DTDC, EcoHai, Ecom Express, eKart, FedEx, FedEx/TNT, Flash Express, Freightways, Fukuyama, Gati, Gati-KWE, Hong Kong Post, India Post, J&T Express, Japan Post, JD.com, Kerry Express, Kings, Lazada Express, New Zealand Post, Nim Express, Ninja van, OCS, PBT Couriers, Safexpress, Sagawa, Seino, SF Express, Shadowfax, STO, Thailand Post, TNT, Toll, UPS, VRL, WOW, XpressBees, Yamato, YTO Express, Yunda, ZTO and Rest of the Market
North America
3 Countries : Canada, Mexico, USA
Carriers : Amazon, Canada Post, Correos de Mexico, DHL eCommerce, DHL Express, Estafeta, FedEx, Fedex Express, FedEx Ground, GLS, Greyhound, Intelcom, LaserShip, LSO, MELI, OnTrac, Paquetexpress, Pitt Ohio, Purolator, Redpack, SCM, SendEx, TFI International, Tresguerras, UPS, USPS and Rest of the Market