EUROPEAN CEP MARKET TRENDS 2021-2022
THE EUROPEAN CEP MARKET TRENDS OF 2021 AND 2022
Published on 15/12/2022
Effigy Consulting is thrilled to announce that Philippe Masquelier, its CEO, was interviewed by CEP Research.
The European Courier, Express and Parcel (CEP) Market grew strongly in 2021 as the Covid-19 pandemic continued to boost B2C demand but has slowed significantly this year due to numerous challenges.

In this first part of an in-depth Expert Analysis for CEP-Research, Philippe Masquelier, owner of Effigy Consulting, examines the main developments in the market and among carriers, based on the specialist market research company's latest European CEP Market Report.
CEP-Research: What are your main findings concerning the European CEP market in 2021? What were the main trends concerning B2C and B2B parcels as well as international and domestic parcels? Were there any surprises?
Philippe Masquelier: Although the European CEP market's growth slowed down in 2021 following the extremely high growth of 2020, it nevertheless remained high at double-digit rates in both revenue and volume.
In 2021, the European Parcel Market increased by +13.3% in revenue and by +11.6% in volume, with several countries growing close to and even more than 20%! Overall, the total CEP Market in Europe has reached a size of € 88.1 billion with 18,384m parcels.
It is interesting to note that revenue has been growing faster than volume in 2021, resulting in the average RPP (revenue per piece) growing by ~1.5%. This is mainly due to price increases managed by carriers having limited capacity and therefore prioritising clients willing to pay higher rates.
The B2C segment was one of the main drivers of growth, with +14.8% volume growth, as many consumers continued to use online shopping more than before the pandemic, although the segment did not reach the extremely high growth of 2020 (estimated at +40.5% in volume) as people returned to physical stores.
The B2B segment recovered in 2021 and grew by 4.9% in volume. Although some restrictions were still imposed during the year, they were generally less severe and less limiting for industries and businesses.
International parcels were generally more dynamic than Domestic in 2021 as the growth of Domestic slowed down vs. the very high growth of 2020. In contrast, International growth was strong as there were fewer restrictions on international traffic (mainly felt at the outset of the pandemic in 2020) and intercontinental flows (outside of Europe) experienced particularly strong growth. This was also driven by the strong drop in the Small Packet (light weight items (<2kg) carried through postal mail networks) from China, partly replaced by International parcels.
CEP-Research: What are your forecasts for this year (2022)? Given weaker e-commerce demand, will B2C volumes grow or fall? How strong is the B2B recovery considering this year's supply chain disruptions? Any other comments about this year?
Philippe Masquelier: 2022 was anticipated as the year when the global economy would regain some equilibrium after the multiple supply and demand shocks resulting from the Covid pandemic. By March any such hope had dissipated. The war in Ukraine, sanctions, energy supply interruptions and the unprecedented rise in inflation have impacted seriously on the global parcel market.
Our first estimate for the 1st half of 2022 is around -6.1% in volume for Europe and for 2022 overall a drop of -3.5%, impacted mostly by a decrease in the B2C segment whilst B2B has slowly regained ground from the COVID years but still having a small negative growth.
CEP-Research: What about individual markets in Europe? Which ones grew fastest in 2021?
Philippe Masquelier: In general, smaller markets grew fastest,  e.g. Latvia +40% and also Turkey +40% in revenue (but this was also driven by inflation) while large markets had much more moderate growth in both revenue and volume. For example, the biggest revenue growth came in countries such as Austria, Bulgaria, Czech Republic, Estonia, Iceland, Latvia, Lithuania, Netherlands, Russia, Slovakia and Turkey (in alphabetical order). Volumes increased fastest in Austria, Bulgaria, Czech Republic, Estonia, Ireland, Latvia, Lithuania, Netherlands, Poland, Russia, Slovakia and Sweden (in alphabetical order).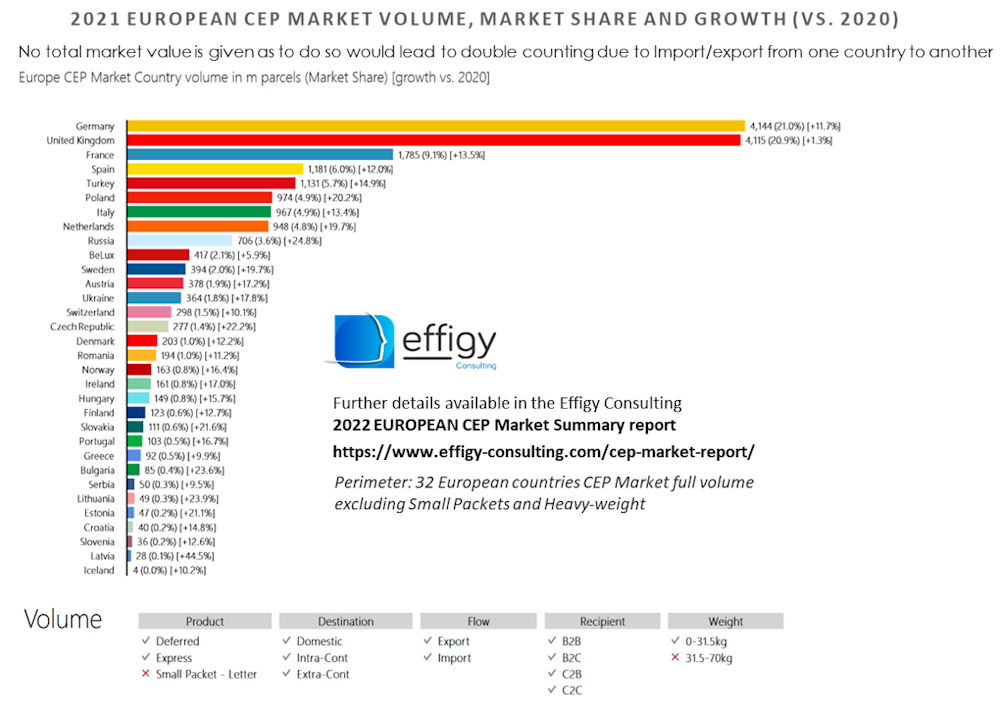 CEP-Research: In terms of carriers, which companies appear to be most successful in Europe – and why?
Philippe Masquelier: In regard to the main carriers, DHL Express experienced the highest growth of the leading carriers in revenue (close to +30%) as the integrator benefited from the post-pandemic market trends. In general, several integrators and cross-border carriers are decreasing less than postal operators thanks to their B2B activities.
However, some of the Postal operators were able to benefit from the surge in B2C parcels thanks to their strong positions in their local markets, e.g. Poste Italiane Group, CTT Group (Portugal), An Post (Ireland) and PTT (Turkey).
Among other companies, InPost Group, Packeta and Amazon are increasing their volumes even though they are mainly driven by B2C activities.
InPost has been growing fast thanks to the acquisition and integration of Mondial Relay and Hermes UK and to high growth in their home market (Poland), and also thanks to their strategy geared towards Out-of-Home delivery. The predicted strong growth of InPost is supported by a more favourable economic situation in Poland, high C2C volumes, and the success of lockers in the relevant countries.
Amazon Logistics' growth would come from a higher level of internalisation, despite Amazon's sales within its international division (excluding the US) dropping in H1 2022. Amazon now delivers through its own logistics (own inventory + Fulfilment by Amazon) more than 1.5 billion parcels in Europe representing an increase of more than 30% in 2021. These figures, however, only represent the volumes operated through their fulfilment centres and not their other volumes that are transported by local carriers. Amazon has surely gained market shares in the B2C Domestic Deferred segment across Europe. Note that Same Day, Heavy Weight and Food are excluded from the Effigy Consulting estimates for Amazon.
Packeta has been expanding fast in recent years and continues to take advantage of the increased popularity of out-of-home delivery during the pandemic.
The following graphic shows the Top 10 parcel carriers in Europe in volume and market share in 2021